By Lynn Hey/News & Record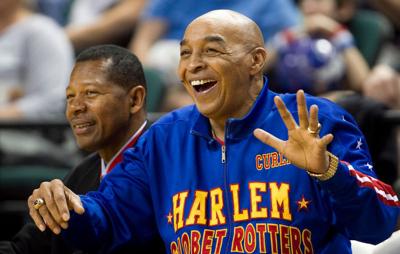 Greensboro native Fred "Curly" Neal, who dribbled his way into history as a member of the Harlem Globetrotters exhibition team for 22 years, died today, HBCU Gameday is reporting.
Neal, 77, who attended Dudley High, was inducted into the N.C. Sports Hall of Fame in 2008. The Globetrotters retired No. 22 that same year.
Freddy Johnson, boys basketball coach and athletic director at Greensboro Day School, said family had confirmed Neal died today. One of Neal's children attended Greensboro Day.
Steve Joyner Sr., the head coach of Johnson C. Smith, said he had heard that Neal died in Houston. He had been in failing health for a while, according to Joyner.
"He's one of the ones that set the school's name up there pretty high," Joyner said about Neal, who is in the Johnson C. Smith Hall of Fame and the North Carolina Sports Hall of Fame.
Joyner said that Neal was a constant contributor to Johnson C. Smith through various appearances through the years.  
"He made several visits here up until about 10 years ago," Joyner said.
Neal played in the CIAA in the early 1960s and averaged 23.1 points a game over his career and was named All-CIAA.
"He not only elevated Johnson C. Smith back when he played but he did so much for HBCU's in general because of how talented he was on the basketball court," said Joyner, a Winston-Salem native who has more than 500 career wins coaching his alma mater.
In 1986 Neal was also inducted into the CIAA's John B. McLendon Hall of Fame.