By JOHN WERNER jwerner@wacotrib.com
When Taylor Young and Travon Blanchard arrived on the Baylor campus in 2013, they quickly launched into a pickup basketball game.
The 6-foot-2 Blanchard sized up his smaller opponent and figured he could take him. What Blanchard underestimated was the fight in the 5-10 (and that's a stretch), 205-pound ball of energy.
"I thought it would be easy to guard him," Blanchard said. "But he did a nice little spin move on me and left me behind him. He's a tremendous athlete. He's a natural born leader."
Now in his third year as a starting linebacker, Young's leadership has been more valuable than ever as the Baylor football team tries to dig out of the repercussions of the sexual assault scandal that cost coach Art Briles his job and left Baylor's roster with little depth.
Young has overcome his small stature to become one of the Big 12's best linebackers over the last three seasons. But his biggest goal is to become an inspiration for his teammates so they'll try to follow his lead.
"People feed off me, and that's just something that comes natural to me," Young said. "I bring energy, that extra spark to the team. I'm pretty laid back but as soon as it's time to put on the pads emotions pour. Every time my number's called, I have to make the play. That's who I am."
Young made the preseason watch lists for the Bednarik, Butkus and Lombardi awards, and he's lived up to the billing by leading the Big 12 with five tackles for loss in No. 16 Baylor's 3-0 nonconference start.
Young's defensive teammates have followed suit as the Bears rank third nationally by allowing 10 points per game. Keeping teams out of the end zone won't be as easy going forward as the Bears open Big 12 play against Oklahoma State on Saturday at McLane Stadium.
But Young wants the defense to keep striving to play inspired football.
"The defense is hungry and the coaches want more," Young said. "Nobody is satisfied with what we've done. We always want to get two or three more stops and another turnover. There's always something that we can do and there's always something Coach (Phil) Bennett can pick at."
After playing weakside linebacker in Baylor's 4-2-5 defense over the last two years, Young has to be more versatile in the 3-4 alignment. He's got more responsibilities now but that's the way he wants it.
"You get to fly around, and that's one thing linebackers love to do is find the ball," Young said. "In the 4-2-5 and 4-3, I was more the inside backer. Now I'm pass rushing, and dropping back. But I've embraced it, and I'm trying to get better. I do have a high motor."
Young's versatility has allowed Bennett to shift his linebackers and nickelbacks when changes have been necessary. When Blanchard came back in the lineup last week against Rice after a knee injury, Bennett was still able to start Pat Levels who had gotten off to a great start at nickelback.
"Taylor's smart," said Baylor senior linebacker Aiavion Edwards. "If we need him in another place he's able to move. It allows us to play more people. If something goes wrong or someone's tired, he's able to switch over and it allows us to get lot more experience on the field at times."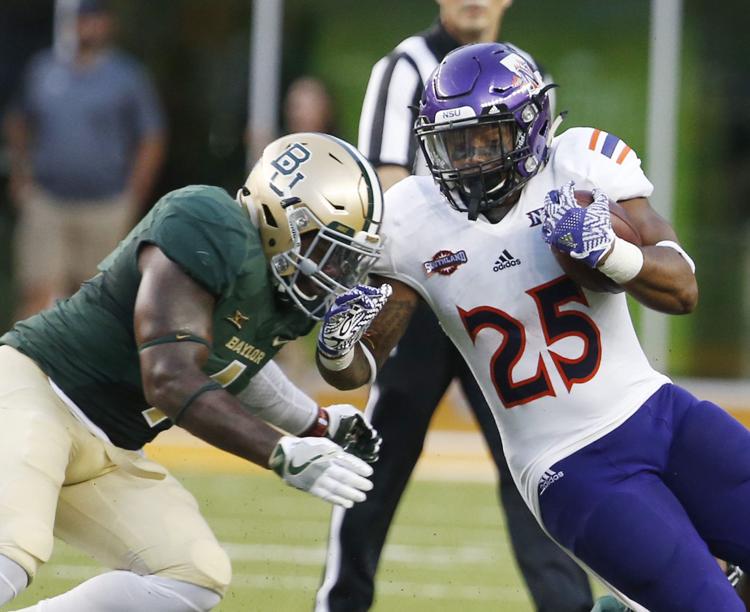 If there was anybody who was born to play college football it was Young. His father, Rodney Young, played running back for Tulsa in the early 1980s. His older brother, R.J., played linebacker at Arizona and Louisiana-Monroe.
Taylor used to join R.J. and some of his buddies for pickup football games when he was a kid in DeSoto. These weren't just your usual neighborhood kids: Linebacker Von Miller became the Super Bowl MVP for the Denver Broncos last season and running back Cyrus Gray now plays for the Atlanta Falcons.
"I was the baby brother," Taylor said. "I got beat up a lot. But I wanted to be better than my older brother and he pushed me to where I am today."
Though Young was named the Class 5A defensive player of the year DeSoto High School in 2012, he was overlooked by most major colleges because of his size.
But Young's high motor and nose for the ball reminded Bennett of Dat Nguyen, an All-America linebacker he coached at Texas A&M in the 1990s who went on to play for the Dallas Cowboys.
"He reminds me of what I used to say about Dat: He's just a little football-playing dude," said Bennett in a 2014 interview. "It doesn't matter what you do. You blitz him, you base him, he'll find the ball. It's not being 6-2 and 210. It's being a player and having the 'it' factor."
Young redshirted at Baylor in 2013 and learned the nuances of playing linebacker from Bryce Hager, an all-Big 12 choice who has gone on to play for the Los Angeles Rams.
"He was a big deal, he taught me a lot," Young said. "Just having him telling me to calm down every play and showing me the ropes. Now I just spread that knowledge to the younger guys."
Young began his redshirt freshman 2014 season as the No. 2 linebacker behind Edwards. But he still made 18 tackles in his first three games before moving into the starting lineup in the sixth game after Edwards suffered an injury.
Last season, Young finished third on the Bears with 80 tackles and 13½ tackles for loss. But he wasn't satisfied and came into this season determined to be one of the best linebackers in the country.
"You can't come in thinking like you have things made," Young said. "Every day you must work hard. I'm competing with the guy next to me, but I'm also competing 50 states away. If I think I had a good day yesterday, I'm at a loss right there. Know the playbook, know your position, and know where you're supposed to be, and you'll be fine."
Young doesn't set personal goals for tackles and sacks. But he wants to set an example for his teammates with his work ethic and passion for the game to put the Bears in position to win the Big 12 title.
"Personal goals come last whenever you're a veteran guy on the team," Young said. "When the team is young, you just hope everybody comes along, everybody does what they're supposed to do. I want to be a great leader and lead my team in the right direction."
Though Young had tremendous confidence coming into Baylor, strength coach Kaz Kazadi has helped him build it even more over the last few years.
"Confidence is a choice," Young said. "You have to choose to be confident and everything will take care of itself. I learned it from Coach Kazadi. He will preach it to you. His main deal is no excuses no matter what. You might be crossing the road and you might get run over, but you better not be late to workouts at 6:15 a.m."
Young's teammates are inspired by how much effort he puts into every practice and game. He wasn't a five-star recruit who felt entitled. Young always looked at playing football as a privilege and approaches every day like he's trying to earn a scholarship.
"I have tremendous respect for Taylor and what he brings to the game," Blanchard said. "He'll smack fire from somebody, he's not afraid to hit anybody. He has a passion for the game, he loves the game. He knows he's not the tallest or the biggest or fastest. But he knows how to play football."