By Mike Freeman NFL National Lead Writer
1. How Much Gronk Is Too Much Gronk?
Rob Gronkowski was at WrestleMania 33 on Sunday. (Loved the three-point stance, by the way.) He then showed up at Opening Day in Fenway Park the following day. And that was after hitting the Daytona 500 in late February. Gronk is out and about again, which raises the question of whether his antics are getting old.
The short answer is "hell no." I love what he does. He's cheery and sincere. He's fun. He also knows there isn't just life after football, there is life during football. More players need to absorb that lesson.
Still, how Gronk is having fun, like many things in the NFL (and in life), gets complicated.
First, a little background on Gronkowski few outside of New England may know. He is one of the hardest-working players in football. In practice and games, he constantly busts his ass. This is not unusual among NFL players, who regularly push their bodies and brains past human limits. But Gronk is at the high end of those players.
It's why Gronkowski has been one of the sport's more frequently injured stars. He isn't injury-prone; he just exerts maximum effort and takes a beating because of it.
What sets Gronk apart from other players is how he parties in a highly public manner. It isn't hard to find a long list of such moments.
That's great. I wish all players did this. They should be allowed to party as much as they want and be as public as they want.
However, I recently heard from four players, two from each conference, who all wondered if Gronkowski is held to a different standard than others in the league.
None wanted to be quoted, even on an off-the-record basis, but each made the point that they didn't think a player such as Cam Newton could do what Gronk does without public backlash.
Remember, a mother wrote a letter of complaint about Newton for, well, basically doing nothing more than strutting around a football field. Quarterbacks are held to a higher standard, but the players I spoke to noted Newton, in particular, could never have the kind of public life Gronkowski lives.
To be fair, Tony Romo was once criticized for going to Cabo San Lucas the week before a playoff game against the Giants. But Odell Beckham also was ripped for partying before a Giants playoff game this past season against Green Bay.
See, it's complicated.
From a pure entertainment standpoint, it's hard not to see humor in Gronk stealing Tom Brady's jersey at Red Sox Opening Day and running onto the field at Fenway to force Brady to use his 8.9-second 40-yard-dash speed to catch him.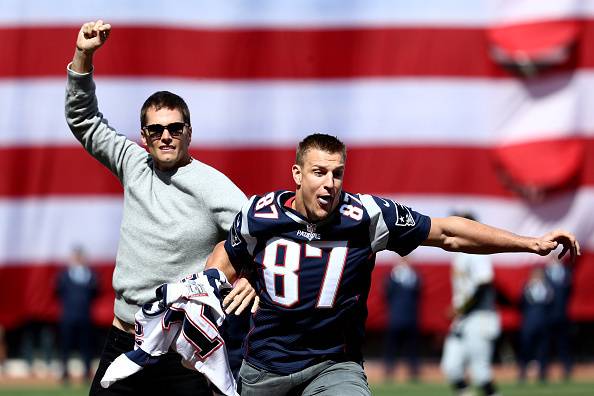 Maddie Meyer/Getty Images
But some players wonder whether we'd be smiling if it wasn't Gronkowski pulling the prank.
In his defense, Gronkowski doesn't get into trouble off the field, and he has rings—plural. He's also perhaps the best tight end in NFL football.
To me, he can do whatever he wants. He's a grown-ass man. As long as he doesn't end up on a police blotter, who cares?
But is this the standard to which other players would be held? It's a question that has players around the league talking.